This Post may contain Affiliate Links. Please read our Disclosure for legal jargon.
Storage is the most common issue in almost every household these days. We have so much stuff, and so little space to keep it all! But many storage options are not very flexible on the pocket. Fortunately, you can repurpose old items and create comfortable storage right out of them!
Here are some perfect dollar tree storage ideas that will help you with your hoarding, while lifting the ambiance of your house. You can build these easy organizational using supplies from the dollar tree store.
31 Clever Dollar Tree storage ideas
1. DIY Lazy Susans
Lazy susans are great for storage, but if you go to purchase one, they are a bit on the expensive side. Instead, you can make one with cheaper alternatives right at home just by using two cake pans from the dollar store.
Fill the bottom one with marbles and place the other cake pan on top of it so it spins easily. You can keep this on your bathroom counter to store your hygiene products or in your kitchen for some spices!
2. Basket Storage
Your local dollar tree will definitely have some pretty plastic storage bins which you can use for bathroom storage. These are small yet deep enough to store multiple items so they can easily fit on the shelves or inside bathroom cabinets. You can even put a label on various baskets to separate the items.
3. Color Co-Ordinated Pantry
This storage system is color coordinated and very pleasing to the eye. You can organize your pantry using some plastic bins, plastic baskets, cake pans, mesh baskets, glass mason jars, and other containers from the dollar store. Make sure you use a label maker to print out a label for every container, so you won't have to waste time looking at every bin when you need something.
4. Locker Bin Storage
If you are looking for storage ideas to store all your clothes seasonally, this is the perfect idea you can incorporate. Use some metallic black paint to paint a few plastic bins from the dollar store to give your storage system a uniform look.
You can add some wooden chalkboard tags that are easily available at a dollar tree store, on the baskets to separate your clothing. These bins go perfect in your garage or storage room and your clothes can wait there till the season is over!
5. Outdoor Toy Storage
Try an 'all out' storage for your garage. Set up some floating metal shelves on the empty garage walls and fill the space up with bins and baskets. You can use small tote bags to store all outdoor toys and garden tools. You can easily grab a couple of plastic baskets, bins, as well as some tote bags from any local dollar tree store, but you can find floating shelves at any hardware store, or you can repurpose old shelves.
If the storage isn't enough, use a wire basket and place it below the bottom shelf. You can keep all your balls in this basket. Keep a step stool nearby.
6. Repurpose Bags for Storage
We all purchase unnecessary stuff we don't even need, and then there is no space to store them! Use some tote bags from the dollar tree store for these extra items, and slide these bags under the bed, or on your closet floor. This creates some extra space without cluttering the room!
7. Bins for the Bathroom
Storing bath toys is such a struggle because you can't keep them in a tight bag or basket unless they completely dry off. Solve this issue easily by installing these plastic bins with holes from the dollar store, to keep all the bath toys in one place.
You can even install an extra one to keep all your bath products! Fix these bins up above your bathtub so the water drains out of the holes and goes back in the tub!
8. Make a Uniform Pantry
An unorganized pantry is so unappealing and it makes you never want to pick out your stuff from the pantry again! Use plastic bins, totes, and jars from the dollar tree store, and make sure you label everything!
Another great organization idea is to create a lazy susan for your spices, instead of letting them settle in small jars. You can make multiple lazy susan setups to store all your jars. This takes up so much lesser space and will make your pantry look organized to the core.
9. Transform a Plastic Organizer
Transform a plastic organizer from the dollar store into a chic and classy organizer you can keep on display in your bedroom. All you need is some metallic spray paint, some plywood, and elbow grease!
The wooden unit looks very appealing and will give your room a contemporary look. Add some brass pulls for the handles to open the plastic organizers easily. You can use this unit to organize your jewelry.
10. Mesh Bag Storage
No one likes wet towels on the bathroom floor or counters. So where do these go? We have a very simple solution to that! Put an over-the-door hook inside your closet and hang a dollar store mesh bag on it. All your wet or dirty towels will go there till you can take care of them.
11. Plain Jane Jars
Buy some plain jars from the dollar store and turn them into these cute bathroom storage jars. Spray paint the jar lids with metallic black spray paint and glue some knobs to give them a more uniform look.
You can keep cotton balls, earbuds, and other such essentials in these jars. These jars will look great in the bathroom cabinets and give your bathroom a modern look while keeping things organized.
12. Wire Baskets for Snacks
These cheap wire baskets from dollar tree are perfect to create storage for all your canned goods like pasta, breakfast cereals, and snacks in your cabinet. Label the baskets so you don't have any difficulty finding your goods.
13. Small Pantry Organization
If you are looking to organize a smaller pantry space, then these wire baskets from the dollar store are perfect to fit on the wall spaces beside your shelves. You can store your fresh produce in these baskets. Make sure you don't stuff all your produce in one basket or they will rot quickly.
14. Plastic Shoe Bins Storage
These plastic bins from the dollar tree can be repurposed perfectly in the pantry. You can store canned goods as well as spices in these! These bins are open from the top and transparent, making it easy to take out what you want.
15. Photo Box Storage Dispenser
This storage system is so cheap you won't believe it can be done! All you need are some dollar store cardboard photo boxes (they cost about 99 cents for a set of two!). You can easily assemble them with the instructions given and repurpose them to be dispensers for your pantry! Make sure you label them and keep your canned goods in these lovely dispensers!
16. DIY Can Organizer
This is a very easy project to take up if you are interested in home improvement projects. All the supplies are very cheap and may come cheaper to you if you have some of them at home. These can organizers are covered up with some fabric so they look attractive in the pantry. All your cans can easily fit in these slim organizers.
17. DIY Magnetic Spice Rack
Make a behind-the-door magnetic spice rack using a cookie sheet, magnetic containers, and some labels from the dollar store. This is such a nice storage idea that looks attractive and keeps spices organized and easily accessible at the same time!
18. Mason Jar Storage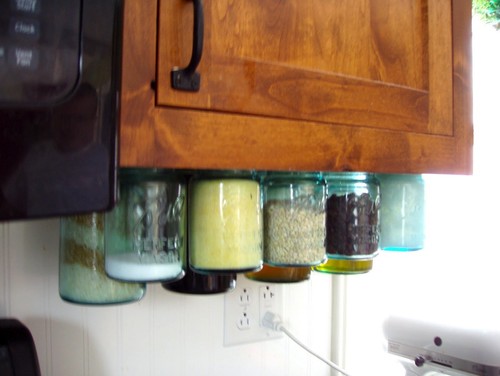 Make this under the cabinet mason jar storage for your spices and other cooking essentials using some classic mason jars from the dollar tree store, a power drill, tape measures, and some screws. You can easily grab any jar you want while cooking with this system! Just make sure your jars are away from a heat source as these are plastic mason jars.
19. Under the Sink Organization
The space under your kitchen sink often goes unnoticed, but it can store so many items if organized smartly. You can keep all your cleaning supplies under the kitchen sink, freeing up some bathroom space for you!
All you need are some cheap stack nests and bins, small containers, steel caddies, and plastic locker bins from the dollar store and you have a well-organized under the sink.
20. DIY Mug Rack
If you have a lot of mugs, there is a great chance that you never have enough space in the kitchen cabinets. Inside of cramming up the space there, create a mug rack using broom poles and over the door hooks.
You can mount this set up on the wall and decorate it so it has a farmhouse look which will add to the ambiance of your kitchen. Hang your mugs from these hooks. You can also keep a plate or two on these hooks comfortably.
21. Dollar Tree Industrial Style Basket
Via northcountrywest
All you need are a black wire basket, jute twine, and a glue gun to make this beautiful industrial basket. You can easily grab these at your local dollar tree. This easy re-modeling of the wire basket looks amazing and gives a very hotel vibe to your room!
You can keep your folded towels, napkins, and other essentials in this basket. It is great for the bathroom or the guest bedroom.
22. DIY Desk Drawer Organizer
With pins and clips lying around everywhere, most of us have messy and unorganized desk drawers. Solution? Use a simple muffin tin from the dollar store and give it a slight makeover with gold spray paint.
But before you start painting, make sure the muffin tin fits inside the desk drawer. Now, you can keep your supplies organized. This can also work as a simpler jewelry organizer too.
23. Repurposed Coffee Creamers
You can use coffee creamers from the dollar store for easy pantry storage for nuts, chocolates, popcorn kernels, sprinkles, etc. You can't store such items in a regular bin and a mason jar will be too big and unnecessary. These containers will look perfect with essentials for a dessert bar, or an ice cream sundae station.
24. Hanging Chips Storage
These plastic hangers from the dollar store can be utilized to hang chips in the pantry. You can hook these hangers through the wired shelves easily. These make a very simple yet fun storage idea for the pantry.
25. Repurpose a Paper Towel Holder
Via hip2save
Use a paper towel holder to keep all your scrunchies in line. This repurposed scrunchie holder will look smart on the vanity and hold all your scrunchies, freeing up some space in your vanity. The best part – a paper towel holder costs just $1 at dollar tree!
26. Glass Fishbowl Organizer
Toss all your daily snacks in a transparent fishbowl from the dollar tree. Keep the fishbowl tilted, rather than keeping it straight, so you can easily grab snacks from this bowl.
27. Sink Caddy Organizer
Mount some dollar store sink caddies on the inside of your pantry to keep all your small food packets without any hassle. This is a great storage idea since small food packets are very slim and light, so these caddies can hold many of them easily.
28. DIY Cookie Tin Tea Bag Storage
Turn a boring cookie tin box into a cute little storage unit for teabags! Use some spray paint on the tin box, and fix some cardboard dividers inside. Separate your favorite tea bags and arrange them in this tin box for a cute little display!
29. DIY Pocket Organizer
Pocket organizers can get quite costly, and they are definitely not worth it if you have to cut them up to fit the side you want. DIY one right at home using vapor barrier from dollar tree, fabric, and your amazing sewing skills! Hang this behind any door to create some extra storage space.
30. Metallic Rope Basket
Repurpose a dollar tree laundry basket into a cute rope basket using some hot glue, rope, and some metallic paint. You can store your clothes, your blankets, or just toss any extra items in this basket and slide it in the spare closet floor space!
31. DIY Trash Bags on a Roll
Storing trash bags can become really inconvenient because you may end up stuffing them and forget where they were kept! Plus, they take up unnecessary space in the kitchen, space that you can use to store other kitchen essentials.
Use curtain rod brackets, white spray paint, and your basic tools to make this easy trash bag roll that you can mount under the sink.
These smart and easy dollar tree storage ideas will make organization easy and cheap! Start organizing your home today with these simple storage projects.