This Post may contain Affiliate Links. Please read our Disclosure for legal jargon.
Cabinets are a great way to add both storage and style to your bathrooms. And the right bathroom cabinet ideas and designs can greatly enhance the overall aesthetic and functionality of your space.
Whether you're looking for a small cabinet to hold a few essentials or a larger cabinet to store all of your bathroom linens and toiletries, there is a bathroom cabinet design to suit your needs.
In this article, we will explore some of the latest bathroom cabinet ideas and designs to help inspire you as you create the perfect space for your needs. From traditional and classic designs to modern and contemporary options, there's something for everyone.
From Rustic to Modern: Bathroom Cabinet Design Inspiration
1. Country Style Bathroom Cabinet
The weathered cabinets give a rustic look to the bathroom and the white and pink contrast makes it unique, and the placement of the cabinet under the sink also adds a lot of depth to the space.
The recycled and repurposed elements of this bathroom fit in quite naturally because of the lighter tones. You can go for this look if you have an oddly shaped bathroom. 
2. French Inspiration Cabinet
This 19th-century-inspired bathroom cabinetry design creates an excellent contrast with dim lights and a white countertop.
There are two cabinets with multiple drawers under each sink so that you never have to go outside the bathroom to find toiletries. Add some brushed gold accents around the mirror, the walls, and the faucets to make the design stand out.
3. Bamboo Bathroom Storage Cabinet
If you want a rustic and functional bathroom cabinet, consider this bamboo cabinet which has multiple shelves and a door.  
You can place regular toiletries on the open side while lesser-used items like cleaners can be placed behind the door. Each shelf can carry up to 30lbs each.
4. Barn Home Over The Toilet Storage
If you think your bathroom is compact and there's no space for a free-standing cabinet, change your perspective. You have a lot of space above the toilet and having a stylish cabinet like this one can help you make good use of it. The door looks quite rustic and there are two shelves to store multiple utilities. 
5. Vasagle Bathroom Floor Storage Cabinet
This bathroom floor storage cabinet is wide enough to store all your towels, toiletries and has an open shelf in between to store quick-use items. Having this kind of cabinet helps if you have space on just one side of the bathroom.
You can then store your toothbrushes, lotions, and more on the top shelf along with a houseplant. The triangular cutout handles add a cutting-edge class to the cabinets.
6. Riveredge Somerset Collection Two-Door Cabinet
Bring out the love for European elegance and class with this exquisite bathroom cabinet. Its detailed inset doors and coved design top make the cabinet look quite classy and allow it to blend in easily in farmhouse style and modern bathrooms.
You get a handy bottom shelf that is open to keep regular-use items. You can then store your lotions, towels, cleaning chemicals, extra soaps, and more on the inner shelves. One inner shelf is adjustable so can store bottles of different heights on it.
7. Mirrored Medicine Bathroom Cabinet
Here is a masterpiece of a bathroom cabinet with LED lights on either side for a thrilling display. Its mirrored finish on the front, as well as a back door, add to the beauty of your bathroom decor. It has a frameless pencil edge and soft closing hinges for easy opening and closing.
The aluminum cabinet also has additional tempered glass edges to add valuable storage space to the walls.
8. Use Bar Carts as Cabinets
Your bar cart can also double up as a cabinet to store your toiletries. They look quite trendy and come in handy if you have a compact bathroom—they provide high mobility.
Add hemp baskets on the shelves and small trays to store hand wash bottles, perfumes, and more. The toiletries can be kept on the top along with houseplants.
9. Floating Shelf Cabinets
You can utilize the dead space around your sink by adding floating shelves. Installing doors on it depends on you but if you want to store towels and soaps, you might want to avoid adding doors.
Place a couple of nautical candle jars to store toothpaste, brushes, and cotton balls among other stuff. 
10. Storage Towers
We have all been there trying to find that extra bit of space to fit in our range of beauty products in the bathroom. Hanging a separate plastic rack is a feasible idea but it'll look cheap and spoil the decor.
Instead, you can opt for a storage tower. It only takes up a bit of floor space while using up all the otherwise dead vertical space. It also adds a sense of unity to the overall setting.
11. A Mix of Contemporary and Art Deco
Bring an old-school vibe to your modern bathroom by adding stylishly carved mirrors above your sink. The wooden cabinet underneath perfectly complements the mismatched mirrors above. Don't forget to add a shelf below the cabinet to keep your hand towels, bath towels, and more.
12. Black Cabinets with Brass Accents on Mirror
Black never goes out of fashion even when it comes to bathroom cabinets. The cabinet here is a standard one with hard edges and a white countertop to go with it. The brass handles add elegance to the cabinet which is very well complemented by the thick brass framing of the mirrors above.
To complete the theme, add brass taps above the sink for a modern and intriguing look.
13. Minimalist Wooden Cabinet
Keeping it simple can also send out a strong statement of style. For instance, look at this plain cabinet with absolutely nothing on it. It has just one shelf and a rod to provide you with ample space to store all your belongings without clutter.
The frameless mirror and the neutral tones of grey, white, and timber add the sophistication that you are looking for in your modern bathroom.
14. Glorious Blue Under The Sink Cabinet
The color combination of this large bathroom cabinet is extremely soothing. It has a total of 6 drawers which provides ample space for all your toiletries and then some more. Complement the cabinet with a marble countertop and white walls.
You also have to add a floating shelf underneath to store your towels and daily-use items.
15. Differently Sized Cabinets
Despite its white theme, this tiny bathroom looks anything but dull. Thanks to its differently sized cabinets, it provides you with ample storage space. From hot rollers to cleaning products to toilet paper, you can have all your stuff in the bathroom without making it look like a messy spot with these cabinets.
16. Curio Cabinet Bathroom Storage
Traditional bathroom cabinets can't fit in under mop sinks. You would have to think of something out of the box especially if you have two sinks in your bathroom.
Check out this highly functional and stylish curio cabinet that can solve all your storage issues. You can keep the little pretty stuff on the shelves while the bulkier items like toilet rolls can be arranged on the shelves below.
17. Stainless Steel Cabinet
If you are looking for a unique and hard-edged cabinet for your bathroom, look no further than this stainless steel cabinet. It goes extremely well with a black flooring and creates an interesting contrast with grey walls. The black countertop and bowl above make it look sexier.
18. Glassdoor Bathroom Cabinet
This freestanding glass door cabinet will let you put all your beautiful stuff on the display. You can also easily choose the stuff you need, unlike the wooden door cabinets. It adds a dash of charm and elegance and would suit modern bathroom decors.
If you are willing to dish out a bit more money on your bathroom decor, don't forget to add a glass bathroom cabinet like this one.
19. Bookcase Style Cabinet
If you have a large family and are looking for a sleek storage cabinet that offers space for everyone's stuff, a bookcase cabinet would be a great idea. It lets you sort all your stuff easily with separate columns for everyone.
It's easy to repurpose an IKEA bookcase into a cabinet like this and is also a cost-effective option. You can even store your novels and magazines on this bookshelf and read them while you're soaking in the tub.
20. Chest Bathroom Storage
If you don't already have a linen closet in your bathroom, this cost-effective and traditional chest storage can solve your storage issues. You can add as many drawers as you want if you wish to DIY it.
Similarly, it can fit in compact spaces because of the option of customization especially when you craft it yourself.
21. Black and White Cabinetry on Each Side
You can add these cool black and white cabinetry on both sides of your bathroom if your space is large. It won't steal your walking space and increase your storage area by miles. You can easily get these custom-made and get enough storage space for all the bathroom accessories.
These cabinets would be best suited on black tiled floors as shown above.
22. Large Wooden Glass Door Cabinet
If you have a whole wall and enough floor space, this traditional-looking cabinet with glass doors is the right choice. You can store all your bathroom accessories on multiple shelves. And it's more than just functional. The cabinet adds a bit of a luxurious feel to the overall decor. 
23. Flat Style Cabinets
Fuss-free elegance can be achieved using flat, stylish, and simple cabinets like this brown wood cabinet with steel handles. It would work in modern, industrial, and contemporary style bathrooms because of the minimal hardware and detailing.
You can construct this kind of cabinet using wood or cost-effective laminate in a variety of colors to suit various decor themes and styles. 
24. Distressed Style Cabinet
Distressed cabinets offer a vintage look that is ideal for both farmhouse style as well as rustic style decor. The vintage cabinets are chic and unique and stand apart from regular furniture styles. Add brushed metal accessories and wide large framed mirrors to complement the rugged cabinets.
You would need to hire a professional to distress your furniture to achieve that rugged style although you can learn it yourself online. 
25. Bathroom Sleek Wall Cabinets
Most of the bathroom space in a compact bathroom is taken by the vanity, bathtub, and toilet. The only way to increase storage space, in this case, is by adding cabinets to the walls.
Here is a sleek option for small bathrooms where you can add a tiered shelved cabinet on one side. It can be used to store extra toiletries. 
26. Vessel Sink Cabinet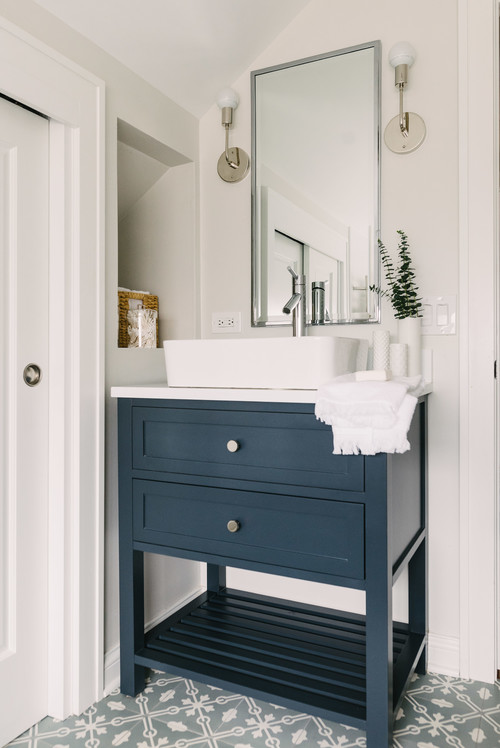 Vessel sinks look quite charming and elegant and you can complement their beauty with a matte painted cabinet underneath like the one shown here. The cabinet is pretty sleek and provides just enough space for the toiletries for a medium-sized bathroom. It makes the space look uncluttered and elegant.
27. A Federal Case Cabinet
If you are a fan of traditional and classic furniture, this Federal cabinet will surely attract you. Its furniture-style feet are reminiscent of the Federal era. The tall cabinets on either side of the vanity have raised panel doors and crown moldings making them look classic and elegant.
28. Linear and Luxurious
A cabinet countertop with texture will provide some excitement to the bathroom decor—the horizontal lines on the floor and walls of this bathroom make it look more spacious than it is. The wooden cabinet under the grey marble counter has natural patterns and lines. The hidden handles additionally give the cabinet a sleek and seamless look.
29. Wooden Cabinet in the Nook
When you place a bathtub against the wall on one side, it takes up all the space. If the tub is cordoned behind its wall, it creates a nook where you can fit in your wooden cabinets. Having a cabinet that's directly in front of the door and taking up all wall space will make your bathroom look wider.
Don't forget to add a full-length mirror that is framed with the same material as the cabinet.
30. Medicine Cabinet with Dark Wooden Vanity
Be it floating shelves, a medicine cabinet, or a proper vanity—this small bathroom has it all. The floating shelves come in handy while stocking toothbrushes, shampoos, and more while you can store the lesser-used cleaning items in the medicine cabinet behind the mirror.
The thick wood framing of the mirror cabinet adds depth to your bathroom storage. The cabinet underneath also provides a lot of space for your bathroom cleaning items.
31. Powder Blue Bathroom Cabinet
The reason why this bathroom looks so attractive and luxurious is because of the use of color tones. You can see neutral tones of white, grey, and black in different shades, and then the vanity stands out with its powder blue color. It has metallic grey undertones and the round mirror's framing complements it well.
If you have more space, you can add a floor-to-ceiling cabinet instead of the one shown here.
32. Art and Craft Inspirational Cabinet
This built-in cabinet made of warm oak wood looks inspired by the Arts and Crafts movement, making it another classic masterpiece. The stained medium brown adds a peaceful and natural vibe to the cabinet. 
It gets full points on functionality as it has multiple drawers and floating shelves. The glass doors on the tall cabinets will help display the more beautiful items in your bathroom.  
33. Rustic Vintage Bathroom Cabinet
Bring the country vibe back to your house by repurposing an old cabinet like this one. You can distress it yourself if you have an interest in DIY crafts. The wooden cabinets add plenty of storage apart from taking you back to the country. 
34. Compact Single Drawer Vanity Cabinet
Add a compact cabinet like this if you don't have enough space in your bathroom and don't want to make it look cluttered. It easily fits the sink inside and provides you with a drawer that has two compartments. You can then store the towels and stuff on the shelf below the drawer.
35. 19th Century Inspired Cabinet
The grey tone of this cabinet adds a lot of elegance while the gold handle exudes charm. You need to be careful with the color of your taps and hanging lights here. They should be of golden color to stop the decor from looking dull.
The tall cabinet in the middle of the two sinks provides ample space to store all your common toiletries while you can keep personal items divided in the vanities under each sink.
36. 5-Drawer Designer Sleek Bathroom Cabinet
Another compact cabinet idea for slim bathrooms, this cabinet also comes with a stylish style sink. It's wider than the previous cabinet, so you can keep your toothbrush stands, soaps, and more on the countertop.
The 5 drawer set ensures all your toiletries can be placed in one place without fuss. The white tone of the cabinet will add elegance and it also has a regular shelf underneath to keep the towels properly rolled.
37. Barn Door Bathroom Cabinets
Raise your vintage game with this unique barn door bathroom vanity. It is one of the most out-of-the-box bathroom cabinet ideas you'll ever find and yet it has a well-organized setting for easy arrangement.
You get two open shelves on either side to store your towels, baskets for tissues, toilet paper, and more. The shelves behind the barn door then provide ample storage space for all your toiletries. It would look better with dark walls and dull lighting.
38. Rustic Wood Carved Cabinet
A vintage storage chest can instantly bring a country-style vibe to your bathroom. But instead of wasting a weekend and failing at distressing properly, you can buy this cost-effective chest from Etsy. It looks great on entryways as well as in bathrooms. The intricate designs on the doors add a traditional look and bring that rustic vibe to your bathroom.
39. Medicine Cabinet for Bathrooms
This rustic cabinet is designed to be hung on walls. If your vanity can't provide enough storage space, you can use the wall above your toilet seat to hang a cabinet like this one. It would blend in seamlessly with country-style decor and dim lighting.
40. Tall Storage Cabinet
If you are looking to increase the storage space in your bathroom but only have small corner spaces left, consider using up vertical space with this tall storage cabinet. The multiple shelves would store your toiletries without looking like it's taking much space.
It has two storage spaces with slatted doors where you can store extra toilet paper, a pullout drawer, and a display shelf. It looks cute and the white color ensures it would look good in any bathroom decor.
41. Multiple Drawers for Massive Master Bathroom
Just like it's hard to find cabinets for small spaces, it's hard to find bathroom cabinets for large spaces too. You can't keep cabinets of multiple styles in your massive bathroom as it looks disturbing and impractical. Instead, consider this kind of cabinet that goes the horizontal length.
The white cabinet has enough drawers to keep the personal stuff of all your family in separate compartments. The golden handles and knobs make it an elegant option. 
42. Floating Cabinet
Floating bathroom cabinets are ideal if you want to achieve a chic and minimalistic look. And this wooden floating cabinet with four drawers is the epitome of minimalism. The lighter wooden tone of this cabinet blends seamlessly with the white tiles of your bathroom.
Add a few houseplants above it to create a more natural and relaxing look.
43. Sauder Caraway Cabinet
Here is a sleek and multi-utility cabinet that would fit right over your toilet. It doesn't add much bulk and is a sleek piece of furniture. You would be able to store your toilet rolls, novels, and shampoos on the open shelving. 
It also has a glass door for a classic look and added protection. There are also another two shelves beside it to help you organize items separately.
44. Zenna Home Cottage Wall Cabinet
Add a bit more storage and a place to hang your towels with this slim wall cabinet. It's a budget-friendly option and saves you the space of adding a towel rack too.
The open shelf in the lower compartment is ideal to place your quick-access items, jars, and plants while you can store the bottles of cleaners, shampoo bottles, and liquid soap containers in the closed compartment above. The white color of this cabinet makes sure it will blend seamlessly with any wall.
45. Peppercorn Wall Cabinet
This sleek wall cabinet offers a rustic and stylish finish with its dark wood texture. It has a reversible door as well as adjustable shelves to ensure you can fit in items of all heights on either side of the door.
The faux granite finish adds to the richness and luxurious feel of this cabinet despite its budget-friendly price.
46. Freestanding Cabinet with Accent Display
The door of this freestanding cabinet is surely its most attractive part. The accent display on the door creates an appealing look mixing classic and modern in one piece of furniture. You are getting plenty of storage space as there's a top shelf, two drawers, and ample space inside the cabinet. The shelf inside the cabinet is adjustable to ensure you can fit in taller items easily.
47. Antique Tall Cabinet with Drawers
This cabinet model can help you enhance your whole bathroom's look and add a lot of depth to your storage. This kind of luxurious cabinet will surely be more expensive but the class it adds is worth the money. 
The antique cabinet though will only look good in old-fashioned bathrooms. The above segment is covered with glass doors making it quite elegant and offering you a place to display houseplants and more. The lower segment has drawers for storage and utility purposes for the whole family.
48. Orange and Sleek Cabinet
Add some pop to your modern bathroom with a bright-colored cabinet. Both shiny and matte orange looks good if you have white countertops above them. The cabinet has super small knobs to make it look sleek and minimalist despite its vibrant color. 
49. Pull Out Storage Cabinet
You can have this kind of pull-out storage in your bathroom even when you don't have much space. Look how it's intelligently fitted in front of the bathtub which is a rarely used space. 
It ensures your bathroom looks minimalistic and clutter-free with everything hiding in your cabinet. You will be able to add towels, toiletries, cleaning products, and more in an otherwise underused space.
50. Louvered Cabinets
If you want a ventilated and vintage cabinet, opt for louvered-styled ones. These cabinets stand out among the bathroom furniture because of their interesting construction. The slats do not overlap and instead are placed near each other. You get ample storage space in a unique form if you get this kind of cabinet customized for your bathroom.
51. Victorian Bathroom Cabinet
This victorian cabinet offers simple yet exotic storage space with its vintage look and traditional detailing. Apart from the design, it's a sleek and functional unit with simple storage provided behind the door. The elegant cabinet provides safe storage space and is quite durable. 
FAQs
What material is the best for a bathroom cabinet?
Since the bathroom is exposed to a lot of moisture, the best materials for bathroom cabinets are those that are resistant to humidity and moisture. Waterproof plywood is one of the best materials to create the base of the cabinets since it can also withstand the heavy weight of marble countertops. PVC cabinets are another practical option but you should avoid medium-density fiber and solid wood when it comes to bathroom cabinets.
Can you use the kitchen cabinets in the bathroom?
Yes, you can use kitchen cabinets in the bathroom but repurposing them can be tough work. You would need to remove drawers from one or two parts of the cabinet if you opt for under-the-cabinet sinks. You would also need to seal the wood to ensure it doesn't get damaged due to the moisture in the bathroom. Bathrooms are more compact than kitchens and so are the cabinets. That gives rise to the issue of your repurposed kitchen cabinet blocking the bathroom doorway.
So these were some of the most practical and attractive options to choose from when repurposing your bathroom cabinet or adding more storage space.