This Post may contain Affiliate Links. Please read our Disclosure for legal jargon.
When it comes to bathrooms, every inch of space counts. One area of the bathroom that is often overlooked for storage is the space over the toilet. It is often left empty, but the space above the toilet is perfect to add some extra storage without taking up valuable floor space.
In this article, we'll explore a variety of over-the-toilet storage ideas, from freestanding shelves and cabinets to wall-mounted options and even repurposed items that will help you make the most of the space above your toilet.
Whether you're looking for something simple and functional or something more creative, there's an over-the-toilet storage solution for you.
Maximize Your Bathroom Space With These 57+ Over-the-Toilet Storage Ideas
1. Over The Toilet Shelves
These floating shelves are a great above-toilet storage option and look elegant. The clean white shelves add storage space above the toilet along with a luxurious look to the bathroom.
They work perfectly for keeping bath accessories and other bathroom basics organized. All you need to do is to fix open shelves on the wall over the toilet.
2. Open Shelve Cabinet
This open shelve cabinet is an attractive yet fancy over the toilet storage idea making your toilet look spacious and elegant. All you need is an open cabinet and attach it above the toilet wall and start storing things.
3. Storage Cabinets
Another elegant toilet storage option is over the toilet storage cabinets. These cabinets are a wonderful storage choice that effectively uses the available space. An elegant solution to keep bathroom items is in a cabinet with windowpane glass fronts.
4. Wine Rack as Towel Rack
Repurpose your wine rack by creating the best over toilet storage for your bathroom.
Fix a wine rack over the toilet for storage to store rolled towels on the hooks. It's an easy way to keep the towels of each family member separate, organized, and handy.
5. Repurpose Wooden Crate as Shelves
Want to give your bathroom the perfect farmhouse look?
Re-create wooden crates to use as a shelf. This can be a unique and different way to create the toilet storage for you to add to your bathroom.
6. Wire Baskets as Towel Storage
Using wire baskets is another fancy over the toilet storage. You can use them to store and organize towels and also keep them easily accessible at the same time.
7. Space Saver Unit
This simple space saver over the toilet storage idea includes a center cabinet and two side cabinets for storage. You can use this to store a lot of things from toilet paper rolls to toilet towels.
If that's not enough, this multipurpose yet simple storage unit also comes with a built-in toilet paper holder and is a perfect storage solution for any bathroom.
8. Freestanding Shelf

If you don't want to go with regular shelving and avoid going through the hassles of drilling holes, then this over the toilet freestanding shelf is a perfect solution for your bathroom. The open shelves make it easy to access contents and also save the time and hassle of searching through cabinets and countertops.
Pro Tip: A rustic over-the-toilet shelf is go-to option for many who want to maintain the aesthetics of their bathroom while making the best use of space.
9. Over the toilet hanging shelf
Another brilliant alternative to regular shelving, this rope hanging shelf is a storage idea for your bathroom.
The nail holes, small cracks, and saw marks add to the rustic charm of this hanging shelf. You can easily make one at home using wood or get one from Amazon.
10. Freestanding Cabinet
Not a fan of storage shelves but at the same don't want to drill holes for cabinets too? Then, here is a perfect toilet storage idea for you in the form of this freestanding cabinet.
With a faux slate finish, this cabinet looks elegant and enhances the overall look of the bathroom.
11. Metal Wire Shelves
Looking for an instant yet cheap over-the-toilet storage option?
These metal wire shelves add instant storage to your bathroom along with a farmhouse look. The towel bar provides a handy place to hold a towel.
12. Ladder Shelf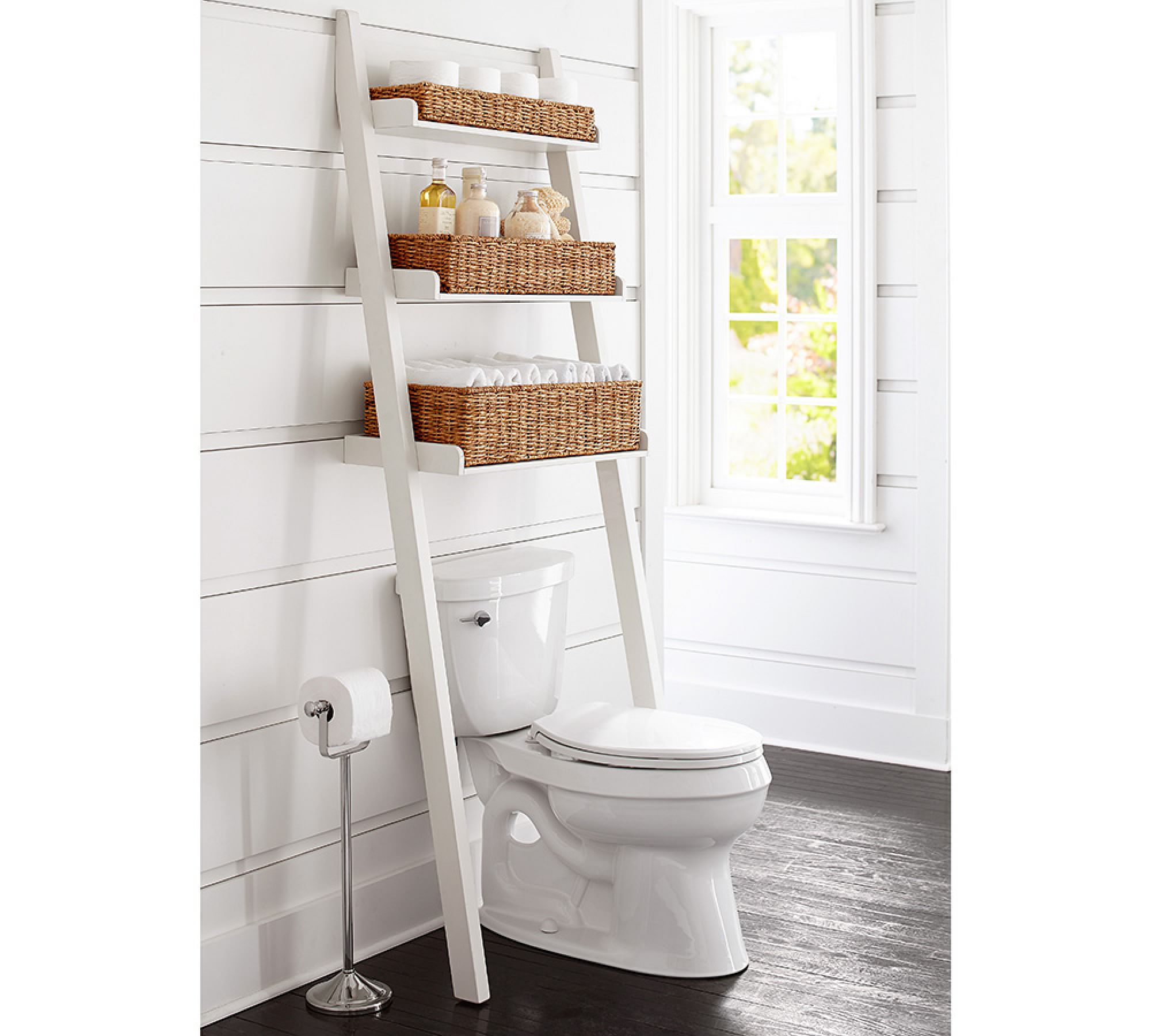 Credit: potterybarn.com
Adding a ladder shelf makes perfect use of wall space in your toilet. Although, a ladder won't have a lot of storage you can easily hang towels on it. You can also tie some shelves to one or more of the rungs to create storage for some things.
Another efficient way of making the best use of ladders would be to create a over the toilet ladder shelf with baskets hanging or attached to the ladder. It gives a nice look to the bathroom, especially for those who have a small bathroom space but higher walls.
13. Hanging Basket and Shelf Organizers
Hanging shelves over a toilet tank top is an inexpensive way to quickly add toilet storage. The baskets are great to store hand towels and washcloths.
Adding a small hanging shelf anchored above the baskets is perfect for holding body washes, shampoos, and conditioners.
14. DIY Pipe and Wood Shelves
DIY over the toilet storage has been a trend for a while now. It is an easy, inexpensive yet beautiful storage option to add to your bathroom. All you have to do is hang a few shelves using industrial pipe and rustic wooden planks and you will have the perfect toilet storage in your bathroom.
This toilet storage option is great for keeping towels and bathroom essentials and can be an inexpensive storage idea involving a fairly easy hardware store project for almost everyone.
15. Hanging Baskets
Yet another inexpensive way to add over the toilet storage space is to use fabric containers from discount stores.
Just hang them or tie them to an existing towel bar and you have a quick and easy-to-access storage option ready. You can hang multiple baskets to multiple towel bars for additional storage.
16. Recessed Shelves
If you can manage to do it successfully, then recessed shelving behind the toilet is a brilliant idea. The only hurdle in this project will be the toilet plumbing as you are moving the shelves into the wall. So, you need to change the toilet plumbing, move it to the side and you're good to go!
17. Repurposed Wood Crates
A simple and inexpensive way to create open shelving and add storage space is to buy some crates or make your own and hang them in the bathroom. Repurposing wooden crates and creating open shelving above toilet gives a classy yet elegant look to the bathroom without taking up much space.
18. Bins and Shelves
Bins are great storage options to keep things organized. This project involves adding simple bins with labels to keep toiletries, makeup, and bathroom accessories perfectly organized.
This is great for storing extra bathroom essentials from facewash to toilet paper.
19. Wood Shadow Box Bathroom Organizer
A wooden sectional shelf divided into different size openings or parallel wooden shelves above toilet is a great storage option. It allows for the organized placement of all types of bathroom products in one place.
From extra toilet paper rolls to even decorative pieces, this shelf allows for storing all the bathroom essentials.
20. 3-Tier Bamboo Shelf
A ready-made and affordable over-the-toilet shelving option is to use this bamboo shelf.
It gives your bathroom a modern and elegant look with enough space to store towels, toiletries, and other bathroom essentials.
Well, just one word to say for this—PERFECT!! This is the king of all over-the-toilet storage ideas as it puts into good use every inch of usually wasted space.
By furnishing this entire space with cabinets and cubbies, you never have to worry about storage again.
22. Farmhouse-Themed Shelves
The farmhouse theme is all rage these days as they're stylish, practical, and don't cost much. Install a few rustic open shelves above the toilet to store bins, towels, soaps, etc. Pretty easy and can be done by anyone easily.
23. Metallic Over toilet Rack
This over-toilet storage rack allows you to easily store everyday bathroom essentials like towels, toilet paper, and shampoo. The best thing about this rack is the adhesive bases that prevent it from falling out.
24. 2 Tiered Metallic Over Toilet Rack
If a normal rack is not enough for your storage needs, get this 2 tiered rack for more storage space. You can buy it here.
25. Mini Wire Bins
It's always a challenge to find a place to store essentials that quickly run out, say toilet paper. But by hanging wire bins above the toilet you can always keep the toilet paper in stock.
Along with it, you can also keep other bathroom essentials.
26. Decorative Shelving Support
The classic wood and pipe free-floating shelves seem quite similar to this lovely shelving support, however it has better visual value.
To improve the overall appearance of the bathroom, use these shelf brackets in place of pipe for your over the toilet storage shelves.
27. Baker's Rack Shelf
If you have a spare baker's rack lying around and have no idea where to use it, reuse it in your bathroom to create some extra storage space over the toilet!
28. Wicker Baskets
To organize all of your amenities, lay some wicker baskets over the shelf and create a storage over toilet. To maintain organization, labels can be placed on the baskets.
29. Partitioned Rustic Cubby
This rustic wooden shelf with partitions is great for over-the-toilet storage. The partitions help you in organizing and arranging all your toiletries efficiently. You can either DIY it or buy it here.
30. Boho Over the Toilet Storage & Twine Shelving Unit
This gorgeous over-the-toilet shelving idea gives the bathroom a nice boho farmhouse look. It also gives a relaxing aura to your bathroom.
31. Floating Glass Shelf
Do you enjoy stylish yet elegant decor?
If so, pick a simple glass shelf and place it above the toilet. Adding multiple glass shelves parallel to each other can create an elegant above the toilet shelving giving you a few storage compartments that doesn't take up much room and offers convenient access.
32. Over The Toilet Shelf With Cabinet
If you wish to display some things on the shelf and hide some within a cabinet at times, then here is an ideal product. This cabinet over the toilet can work wonderfully for you if you are looking for something that can display some things while keeping others hidden.
33. Vintage Look Floating Shelves
Choose a shelf that tells a tale if you enjoy all things antique and vintage. These faded wooden floating shelves will add character and charm to your bathroom setup.
They come in a set of three, promising a good amount of storage. Buy them here.
34. Chic Decor
This shabby chic bathroom was meticulous in its attention to detail. A modest but mighty storage cabinet hanging over the toilet that matches the space's aesthetic yet offers enough storage space to store toilet paper and other necessities is just perfect.
35. Modern Triangle Shelf
Why not get extra creative and hang this triangle-shaped shelf with compartments for storing items for organization or bathroom needs for different family members?
These shelves not only will look super modular in your bathroom but also serve the purpose well. You can get them here.
36. Circular Shelf
Not a fan of triangles? Then this 360-degree circular shelf is perfect for you. This funky design by an Instagrammer is ideal for storing little items such as candles, makeup, and other small necessities. The only thing is that you might have to DIY.
37. Ballard Designs Repurposed Shutters Bathroom Shelf
Don't you think this Ballard Design Shutter Shelf is gorgeous?
You'll adore it if you try this DIY to add a little bit of southern charm to your bathroom.
Additionally, this project will cost just under $7, which in my opinion is a complete steal.
38. Thick Block Of Wood Floating Shelf
Got some leftover wooden blocks around the home? Then make use of them to create these DIY floating shelves.
These shelves are thick enough to show off the wood's beauty while keeping all your folded towels, extra toilet paper, and other small household goods.
39. Barn Board Shelving
This wooden wall plaque shelving system is great for storing your essentials while making your bathroom a bit more homely.
40. 3-Tier Hanging Shelf with Towel Rack
With plenty of storage and an industrial towel bar, this handcrafted farmhouse bathroom shelf simply looks gorgeous.
The White color goes with any type of bathroom so it'll look beautiful no matter what color the bathroom is painted in. You can buy this exact shelf here.
41. Frame Turned Into Storage Space
Look at how Jamielyn Nye has made use of some white chalk paint and a frame that was just sitting in her garage.
This old-fashioned storage piece allows you to keep your bathroom supplies in style without them slipping down.
42. Laundry Basket Hack
This blogger has given the feel of Christmas and winter to their entire household with their DIY skills.
The use of an old laundry basket for storage above the toilet is simply genius. Surely, something to do if you want your storage to look unique on a budget.
43. Dark Tinted Wooden Floating Shelf Above Toilet
In a light-colored bathroom, a dark-tinted shelf will surely adorn the atmosphere by giving warmth.
These beautiful three-set wooden block shelves have the perfect smooth finish that'll make your bathroom storage impressive. You can get these shelves here.
44. Wire Cubes Storage
The basic yet elegantly black wire cube storage will look fantastic in your bathroom. It features plenty of open storage space that will enable you to organize your things.
Moreover, you'll be able to see which item you're going low on. You can buy a similar wire cube here.
45. Rustic Wooden Open Cabinet
This wooden over-the-toilet cabinet provides a vintage look to your bathroom. The open design allows you to see what items you have and what you're low on easily.
46. Over the Toilet Basket Storage
Place some shallow baskets over floating shelves above the toilet for storage and also to keep them organized and separate. You can label each basket as well to easily know what's where.
47. Use an Industrial Basket
An industrial basket can serve as an elegant storage over the toilet. They won't break the bank and, believe it or not, their natural silver appearance will be a terrific addition to any bathroom.
You can add as many containers as you need if one won't hold all the items.
48. Storage Unit Out Of Wooden Pallet
Who knew an old wooden pallet can be repurposed like this? This quirky aesthetic is well-established if you just use the right shade that will look nice for your bathroom.
49. Numbered Baskets In A Floating Black Shelf
Numbered baskets are a good method to keep track of bathroom essentials, and users can reach durable and reinforced shelving at various levels.
To replace bathroom towels, tissues, and hygiene supplies, the baskets may be easily moved and changed.
50. Zig-Zag Shelving
It looks quite stylish to install floating shelves in a zigzag design over the toilet.
51. Wood And Mesh Crates
An alternative and appealing technique to makeover the toilet shelves is to use an open crate made of wood and mesh.
You can paint these or let them be in their original wooden color, also. Be it anything, these crates as storage will look so creative!
52. DIY Bucket Storage Idea
Drill holes in some metal buckets and hang them on the towel rack using hooks for an easy make-do storage solution!
53. Hanging Over-Toilet Shelves With White And Black Shade
Another quick, easy, and elegant technique to connect shelving together is with eye rings and long insertion hooks.
The shelves appear to float, despite being anchored to both a rear wall and an overhead ceiling, giving it a freestyle black-and-white look.
54. DIY Bathroom Cabinets Over Toilet
We couldn't take out the eyes of Liz Marie's new creation. Her fashionable and tidy method to store bathroom items in a rustic-looking cabinet with windowpane glass fronts and a doorknob opening caught our eyes. And we believe, it will captivate you as well.
55. White Coated Boxy Shelving
In a toilet space, squared-off and boxy shelves fastened directly to the wall can provide a floating shelf to hold your bathroom goodies and also as a fascinating visual.
The white shade makes it even more special as it adds a touch of elegance to the bathroom. 
56. Small Grey Shelf Open Cabinet
A large painted shelf that coordinates with your bathroom color is a jackpot, isn't it? Look at how this blogger requested their carpenter for this shaded cabinet as it matches their bathroom. If you believe your bathroom will ace this look, you should clearly go for this one!
57. Cute Pastel Shelf With Hooks
Any bathroom would benefit from having a single, brightly painted shelf with hooks for hanging towels and clothes beneath. The gorgeous blue color gives a bathroom a comfortable, nautical appearance.
58. Narrow Over The Toilet Storage
This narrow storage space can accommodate all your toiletries while saving you plenty of bathroom space.
If you're in need of some over the toilet storage ideas, we hope that this post has given you a few good ones to get started with. With a little creativity and some elbow grease, you can add functional and stylish storage to the bathroom.
If you like these toilet storage ideas, then do share the post!