This Post may contain Affiliate Links. Please read our Disclosure for legal jargon.
Jewelry organization is always a challenge: you have to find the best way to display and arrange your prized possessions while avoiding clutter. It's far more difficult to find that specific ring or bracelet you were looking for on your way to supper when your stuff is in a jumble. With this post, we hope to solve your jewelry storage problems with simple DIYs and upcycling ideas.
31 Brilliant Jewelry Storage Ideas You Must Know
1. DIY Black Lace Earring Holder
Your jewelry can be stored efficiently by tying a lacy fabric to a plank of wood or an embroidery hoop and placing your studs on it. The cloth is smooth and lovely, it's perfect for your earrings. And it looks so dainty when hung on the wall!
2. Choose a Jewelry Organizer With Floating Bars
If you have a lot of jewelry, floating organizers are a fantastic option. You may hang and rearrange pendants by design, color, and purpose using these attached bars. Putting objects away and managing them is simple, and it looks neat. It makes a huge difference in establishing a tailored, luxurious look in your closet!
3. DIY Jewelry Safe with Partitions
This is where you should keep your valuable jewels if you have any. Having a specific spot for each element in one's collection serves to prevent items from being damaged or misplaced. There's also the issue of safety to address. A jewelry box will safeguard your valuables.
4. Use Stackable Drawer Organizers
If you don't have enough countertop space or drawers, keep your jewelry in an unused area in your closet or bedside. To store bracelets, pendants, timepieces, and studs out of sight and arranged properly, we suggest stacked drawer dividers. This 40-compartment jewelry tray is composed of high-quality synthetic black leather with a grey interior and is perfect for your jewelry.
5. Make a Clay Cactus Ring Holder
This easy project is a terrific way to bring art into your daily life creatively and practically. Even if you've never worked with modeling clay before, you'll be able to do this simple DIY with little effort. Once you're done, you'll have such a cute little area to store all of your prized possessions.
6. DIY Fancy Jewelry Box
This is yet another jewelry box concept, but this one has more compartments and is more useful. This guide contains all of the necessary tools, directions, and supplies for making the jewelry box. A PDF file with explicit diagrams explaining how to assemble the cabinet is also provided at the end of the page.
7. DIY Jewelry Display
With a few bucks and some effort, you can make a lovely jewelry tower that contains everything and has room for even more stuff. It also makes finding your studs, pendants, bracelets, and little necklaces much easier. It will take around a day to complete, and there are many other ways to customize this jewelry stand as per your needs.
8. Clothes Hanger As A Necklace Hanger
Make a place to display your necklaces with your cloth hangers. Utilize the clips on both ends of the hanger to keep your necklaces from getting tied up. Another perk? It enables you to view all of your jewelry at any time and makes it more convenient.
9. DIY Rotating Jewelry Storage
Utilize cereal boxes and paper towel rolls to save time when looking for your earrings. Add connectors and join them securely. Now is the time to put your jewelry and accessories on them and never worry about displacing them. The hooks can also be spray painted to complement the contact sheet you will use for this project.
10. Make Your Own Jewelry Cabinet
Check out this simple jewelry cupboard idea if you possess way too much jewelry for one compact case. There are six compartments, fold-out edges, a cabinet on top with a mirror, and a cover that folds up. A supplies list, a cut list, step-by-step instructions, and numerous diagrams are all provided for creating this masterpiece.
11. DIY Pebble Hangers
This DIY idea is about arranging jewelry in a cost-effective, minimalist, and attractive manner! Pebbles and a sturdy double-sided mounting adhesive are all you'll need. These tapes are detachable, robust, inexpensive, and can be used to hang items on your wall. Attach the pebble to your wall with a thin strip of tape on the flat side. And there you have it!
12. Vintage Frame And Chicken Wire Jewelry Organizer
Isn't it amazing what a little color and chicken wire can accomplish? You may do this DIY in one afternoon! This organizer is large enough to hold your entire earring collection and serve as a decorative item as well.
13. Hanging Wall Jewelry Organizer
Another lovely idea we have here is a DIY jewelry organizer made of wooden frames, knobs, and pulls. This amazing jewelry organizer is large enough to accommodate your complete necklace inventory without any problems. All you'll need are a few simple materials such as wood panels, screws, nuts, and sandpaper.
14. Store Earrings in Soft Velvet Pouches
When it comes to your more valuable pairs, you ought to store them carefully. To prevent the jewelry pieces from scratching one another, keep them separated in soft pouches with drawstrings. These little drawstring jewelry pouches are made of soft velvet-like material and do an excellent job of keeping them safe.
15. Bowl Collection Organizer
We adore the concept of storing valuables in an upcycled antique cup or bowl set, particularly if the dishes you choose hold emotional importance. This trick is for you if you pull off your earrings to do chores or before going to bed. Not only you will find them easily, but you'll also avoid having your prized possessions slip into the washbasin or under your sofa.
16. DIY Bracelet Display
If your bangles are always strewn around in small dishes, this project is for you. You'd never guess by simply glancing at it, but this bracelet display bar is built entirely out of affordable and basic materials! A recycled paper towel roll, round wooden plaque, leftover fabric, Mod Podge, wood glue, stain, a drill, and a saw are all you need for this craft.
17. Simple Jewelry Organization Idea
An attractive jewelry collection doesn't have to be difficult to make, nor does it have to be expensive, as this design illustrates. With a few spare trim boards, hooks, some chains, and a few screws, you can create a lovely showcase for your jewelry.
18. Watercolors and Driftwood DIY
This is your solution if you want something that is both elegant and functional while still being inexpensive to make. Natural driftwood gives this jewelry storage DIY a rustic, laid-back vibe, while watercolors add some excitement and colors.
19. DIY Wooden Jewelry Organizer
This jewelry holder is made of walnut woods and features magnets and brass to give it a trendy and attractive appearance that many people will appreciate. It also provides an abundance of storage space, making it a wonderful choice for anyone looking for a way to organize their jewelry and other little items.
20. DIY Ring & Earring Jewelry Organizer
Here's a suggestion for a charming jewelry box that allows you to keep your jewelry organized – and will take you next to nothing to construct. It's an excellent choice for anyone who wishes to organize their jewelry but doesn't want to spend much.
21. Jewelry Blocks
This easy-to-follow block storage idea uses only seven resources and equipment, including a common hammer and other ordinary household items. You'll adore how simple and sophisticated they are, allowing your jewelry to shine. They work best in a contemporary atmosphere.
22. Make Use of Wine Corks
Don't throw away the corks from your liquor bottles; instead, utilize them to create a lovely jewelry holder. It's surprising what a handful of old corks can accomplish! Use a heat gun to adhere the corks securely. Add hooks to the corks and use them to hold your accessories. You can complete this job in only a few minutes!
23. DIY Industrial Pipe Jewelry Organizer
Here's a unique idea for pipe-based industrial jewelry storage. This is a very stylish design, and we adore how it also allows you to flaunt your collection. It's also a straightforward, low-cost approach, so we're confident others will want to replicate it.
24. Cheap Dollar Store Jewelry Organizer
This concept is guaranteed to be popular among individuals who enjoy low-cost DIY crafts that use supplies from their local corner store. It shows you how to create a jewelry holder that allows you to show off your jewel inventory while maintaining it nicely.
25. Using Twigs to Organize Necklaces
To make this rustic-looking jewelry holder, arrange tree twigs in various designs and dye them in various colors. Make a hole in the driftwood and stick the twigs in place. This is a great jewelry organizer, all you have to do is screw the wood to the wall to save table space.
26. Lovely Hardware Board Jewelry Organizer
This is a fantastic concept for a jewelry exhibit as it is made entirely of reused hardware. It's quite effective, providing you with a practical place to store your jewelry where it can be seen and appreciated by all. This is something that anyone can accomplish at home, so if you don't wish to take on something too difficult, this might be the activity for you.
27. DIY Pegboard Jewelry Storage
Use a pegboard to build a frame for all of your jewelry. Incorporate hooks, cups, and anything else that will help keep your jewelry organized. It's neat, has enough storage space, and is simple to modify and mix up based on your requirements.
28. DIY Brass Earring Pyramid
This DIY storage solution is the most appealing when it comes to interesting and stylish storage projects. It's essentially the same as getting a brass Himmeli ornament that sits on a dresser. It's not intended to contain a vast collection of jewels, but if you're searching for a method to show off a few favorite pieces, this could be perfect!
29. DIY Plaster Hand Jewelry Display
Make a funky plaster hand to store your rings and bracelets instead of spending money on buying one. Simply use plaster, mold, and paint to create your masterpiece. It's both imaginative and practical. This plaster hand will undoubtedly assist you in getting a better grasp on that mess while also providing an aesthetic way to exhibit your favorite pieces.
30. DIY Repurposed Jewelry Organizer
The idea is one of our favorites as it requires you to repurpose old materials from around the house to create a fashionable jewelry storage unit. All you need are some wooden boards, planks, and some basic tools, and you are good to go.
31. DIY Easy Sewing Jewelry Organizer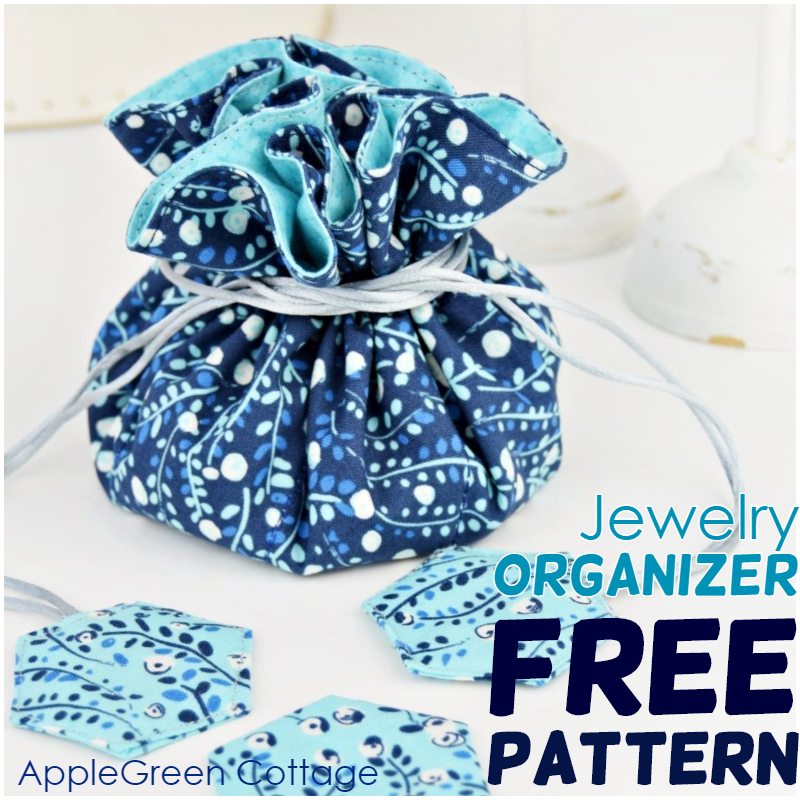 This jewelry organizer idea explains how to create these stitched bags. So, if you're looking to get a little crafty, this might be the project for you. It looks adorable, and you can construct it out of any fabric you like, making it very customizable.
As you can see, there are many jewelry collections and showcase units to choose from, and the biggest challenge may be deciding which one to replicate. We've had a lot of fun putting these ideas together for you, and certainly hope you've appreciated reading them all as well. Beyond everything, we believe we've given you enough motivation and innovative concepts to start organizing your jewelry.