This Post may contain Affiliate Links. Please read our Disclosure for legal jargon.
Moving into a new place or redecorating your house? You might want to look at some TV stands to support and help show off your new sleek TV set. A TV stand is not just helpful in conveniently storing your TV, gaming consoles and the various wires that come with it but getting the right one can also help perk up your living room. 
In today's world, as TVs get slimmer and lighter, stands get smaller! There's no need for a large bulky TV stand taking up unnecessary space in your living room. Besides, it wouldn't go well with the modern and refined, minimalist home décor look which is trendy right now!
At Offbeatbros, we have your best interests at heart and believe in different strokes for different folks. So here's a comprehensive guide we've put together to help you pick the perfect small TV stand that'll fit right into the look you're going for and the budget you have!
16 Best Small TV Stands
1. Convenience Concepts 3 Tier TV Stand

This is perfect for anyone who wants to store more than just a TV. You can use the 3 tiers to store your video game consoles or even non-electronic items. It can hold up to a 32 inch TV. its sleek shelves which come in 9 different colors like espresso, cherry, weathered grey, white, etc are made of particleboard and melamine which makes it perfect for a living room with contemporary modern style decor.
It has four stainless steel poles and plastic feet and is very durable in nature. The biggest perk of this TV stand is that it's not heavier than 15 pounds and can fit easily in a small space. So it's perfect for small cozy corners!
Dimensions: 31 1/2″ W  x  16″ D  x  22 1/4″ H
What people are saying: You can finish assembling it in four quick and easy steps.
2. Paulina TV Stand
This TV stand made of manufactured wood can hold up to 50 pounds. This is a great option for those who don't want to shell out huge bucks for a simple TV stand. Home décor can be expensive! You can also keep your video games or other media players on the middle shelf and use the bottom shelf for neat stacks of DVDs or even books. The maximum TV size that can be stored in this set is 32 inches.
Dimensions: 23.3" H  x  31.5" W  x  15.8" D
What people are saying: The shelves have a sleek espresso faux wood finish and are very easy to clean. The legs are plastic and assembling is easy and no screws are needed! 
3. Chason TV Stand
This one for the heavyweights! This TV stand can accommodate up to 70-inch plasma, DLP, LCD and LED TVs and is 108 pounds heavy. It's made from glass and metal with a glossy black touch and is quite stylish with a curved front tempered safety glass with bevel edges.
The TV shelf is open and can hold heavy devices like speakers as well. The black panels have circular holes that not just help sort out cables but also contribute to the modern look. The most important feature of this stand, however, is the commercial-grade casters which make it possible to easily move it from one place to another.
Dimensions: 66" H x 40" W x 20" D
What people are saying: Easy to assemble and comes with an AV shelf. 
4. Visions Tall Corner TV Stand
Tired of the mess tangled wires make near the back of your TV set? We all are! Tangled wires are a nuisance to sort out and it makes your living room look messy. Visions tall corner TV stand has an open back which can help prevent this. Its narrow, tall look is ideal for corners or small rooms. It can store a 37 inch TV and up to 64 lbs.
It has a tempered safety glass door to protect components from dust which makes the stand very durable. it comes with two adjustable shelves to help accommodate your gaming systems and media players of different sizes, and one shelf which remains stationary for stability.
Dimensions: 19.5  x  31  x  31 inches
What people are saying: Putting this product together isn't very hard you'll only need a screwdriver and an instruction manual that comes with it. 
5. Prepac Sonoma Corner TV Cabinet
Who doesn't like watching TV while lying in bed after a long day of work? This TV cabinet is perfect for this as it is 32 inches tall. It is made out of high quality laminated composite wood and has no plastic edgebanding.
With an open shelf for DVD and VCR players and an enclosed cabinet with an adjustable shelf where you can store other items like video game consoles and also has a slit-like opening in the back for organized wires and cables. This would add a bit of style to your room décor with its profiled top, side moldings and an arched kick plate.
Dimensions: 32″W  x  32″H  x  21″D
What people are saying: It requires some assembling. 
6. Sauder Harvest Mill Corner Entertainment Stand
This stand is cabinet style with three shelves in the middle and two doors on the sides. It is made of durable engineered wood with abbey oak finish which would fit well in rooms with wooden interiors. If you're wondering what engineered wood is, it is a medium-density fiberboard that is made of compressed wood fibers.
Using this type of wood has several benefits like affordability, consistency, and long term durability. The doors on the sides each have two adjustable shelves to store audio, video or other electronic equipment. It can hold up to a 35 inch wide TV.
Dimensions: 35.51W  x  18.78D  x  29.13H
 What people are saying: The cabinet is easy to put together and comes with an instruction manual for assembly.
7. Convenience Concepts Designs2Go 3-Tier TV Stand
Looking for something sweet and simple? The Wedding2Go 3 Tier TV Stand from Convenience Concepts is that perfect something that will fit into any contemporary style rooms.
Its three shelves made of particle board and melamine, stainless steel poles and plastic feet. It can hold TVs up to 32 inches. You get to choose from nine different colors from classic oak to modern white.
Dimensions: 15.75  x  31.5  x  22.25 inches
What people are saying: Assembling the stand requires just four quick and easy steps and can be done in less than 10 minutes!
8. Monarch Specialties 3 Tier TV Stand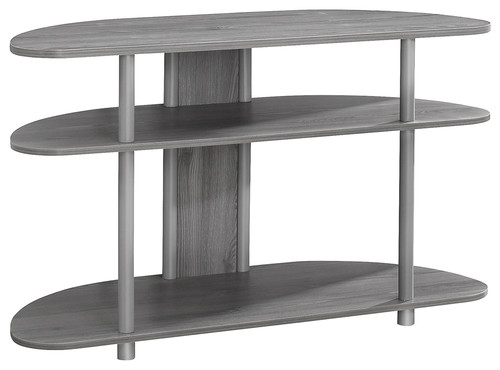 This TV stand is specifically made for small corners or to be put up against walls. You can store your video game consoles or other electronic components on the center shelf and utilize the bottom shelf for DVDs, soundbars and other AV accessories. It can hold up to a 40 inch TV and is made of particleboard and laminated.
The shelves are comparatively wider than most small TV stands and you can utilize this space to store all kinds of items.  Its chic grey oak finish can instantly modernize any room its placed in. 
Dimensions: W 16″ / D 38″ / H 23″ 
What people are saying: It requires some assembly. 
9. Home Source Glass TV Stand
Don't worry, we've got something for homes with no wood furniture as well! This TV stand from home source is made of glass with shiny chrome metal supports. Perfect for modern style "glass houses". You can pick between black or clear glass, depending on what matches your décor. You can fit up to a 41 inch TV on its spacious top shelf and you get three other shelves for your other electronic equipment like gaming accessories. Since its completely made of glass and metal, the shelf is a little heavy weighing 41 pounds.
Dimensions: 31.5W x 17.7D x 23.9H
What people are saying: It's easy to assemble but you might need an extra pair of hands and careful handling as glass is easy to break, something you might want to consider if you have children in the house! 
10. Belham Living Carter Mid-Century Modern TV Stand
This TV stand offers a bit of an antique look while still being modern enough to fit into a contemporary style home. Its rounded tall tapering legs give it its distinct mid-century look which definitely makes it stand out from other TV stands.
It can hold up to 65 inches wide TV and has two drawers on either side and an open shelf in the middle. The shelf comes with a hole in the back with which you can conveniently manage your cords and prevent tangles. This TV stand is made of solid poplar legs and birch veneers with a walnut finish. 
Dimensions: 59W x 20D x 19H in.
What people are saying: attractive, easy to wire, convenient. 
11.Belham Living Florence TV Stand
If you're looking for some classy Grey veneer interior to add to your living room look no further. This TV stand which is made from oak veneer and engineered wood can hole up to 52 inches TV screens. This TV stand contains two cabinets with stylish fretwork design on the doors and two adjustable shelves inside which provides plenty of storage space for other media devices or decorative items. 
Dimensions: 50W x 16D x 25H in.
What people are saying: easy to assemble and good quality. 
12.Perlesmith Mobile TV Cart
You don't have to compromise on elegance and style for functionality and mobility! Perlesmith Mobile TV Cart offers a shiny and sleek look that also guarantees durability and stability. This is possible due to its AV shelf which can hold up to 22 lbs of TVs, laptops, DVD players, etc.
It has high-quality lockable caster wheels to make sure your TV stand doesn't go rolling away when you're in the middle of a show! It has a built-in wire management system which also allows you to conceal wires and cords. 
Dimensions: 30.5 x 12.3 x 4.2 inches
What people are saying: easy to assemble and comes equipped with the tools and instructions.
13.Perlesmith Portable Tripod TV Stand
Don't we all sometimes wish we could drag out TV with us everywhere we go? This portable TV stand makes it possible! You can use it anywhere you want including outdoors. Its child-friendly and you don't have to worry about any messes that wires make as it comes with Velcro.
The stand is foldable so it's easy to carry and also saves a lot of space. You can adjust the height and also swivel the stand around 360° for family gatherings or conferences. This TV stand can hold up to 88 lbs of weight and all the legs have bolts to lock the stand into position.
Dimensions: 41.8 x 9 x 6 inches
What people are saying: easy to put together and very sturdy. 
14.Lansing TV Stand
Looking for a budget-friendly option? This simple tv stand fits right into any contemporary style home. It can accommodate up to a 50 inch TV. It has three lower shelves which give you plenty of storage space for your other equipment like DVDs, media players, and video games.
It's made from manufactured wood and its sleek espresso shade gives it a modern look. You'll require additional tools like screwdrivers and hammers for assembly. 
Dimensions: 20" H x 46.8" W x 15.6" D
What people are saying: easy to put together
15. Ryker TV Stand
This is a traditional living room TV stand that can hold up to 42 inches TV. Ryker TV stand offers ample storage space for items like media players, cable boxes, video games or even books and DVD collections as it has seven shelves.
It is made of manufactured wood and has a highland oak finish. With an adjustable shelving and built-in cable management system, this stand can hold up to 70 pounds of equipment.
Dimensions: 21.417" H x 39.252" W x 15.512" D
What people are saying: Assembly is easy and comes with simple instructions. 
16. Gaye Antique TV Stand
This is a rustic and eccentric piece that is inspired by warehouse or factory-style furniture. It is made of manufactured wood and has a nice decorative touch on the metal legs. You can easily move it from room to room as it has four wheels that lock and it weighs only 43 pounds.
The top shelf can accommodate up to 50 inches TV. The shelving is open so you don't have to worry about tangled wires and cables. It has a medium brown wood tone that might fit well in antique-style rooms with wooden décor. 
Dimensions: 22.8" H x 47.2" W x 15.5" D
What people are saying: Easy to follow assembly instructions and roomy shelves.
Finding the right TV stand for your TV is definitely a crucial task if you want to enjoy your TV properly. You don't want to come home from a long day and realize the TV stand you ordered wouldn't really be able to fit your beloved TV. Or worse, that your TV stand doesn't really match any of your other room décors and sticks out like a sore thumb.
Thankfully, if you just know where to look and what to look for, it's not that difficult and you can enjoy your favorite shows and movies in no time!